"It Feels Like He's Our Teammate"
December 26th, 2019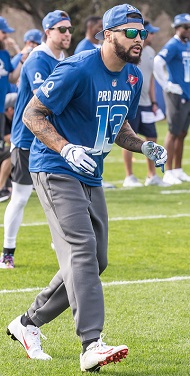 You hear a lot about communication on defense, but you hear less about it on offense.
Mike Evans peeled back the curtain this week to let fans know how well the Bucs are getting the message behind the scenes.
Offensive coordinator Byron Leftwich having a player's mindset and demeanor helps him communicate extremely effectively, Evans told Buccaneers Radio.
"He's fresh out of the league so it feels like he's our teammate. But, you know, he has that authority and we have that respect with him, that he's still our coach," Evans said of Leftwich. "But he's still like a player out there. He understands us, so it's easy for him to get the point across, like it's real easy for him. He did a hell of a job this season. Looking forward to an explosive last game to finish off strong. And next year, hopefully we're the best offense in the league and the best team in the league. Because that's what we can do; we just have to carry this momentum over to next year."
Joe liked the concept of Leftwich getting his message across because he gets the players on a deeper level.
Joe can't help but be a little cynical and think, 'If Leftwich communicates so well, then why can't he get through to Jameis about cutting his interceptions to, say, 20 per season?'
Maybe next year.