"Perfect Recipe"
December 27th, 2019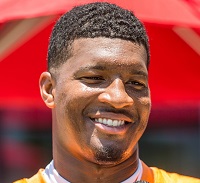 A former teammate of Byron Leftwich let the nation in on a conversation the two had.
And Joe finds it intriguing.
Former Steelers left tackle Max Starks won a couple of Super Bowl rings with Pittsburgh and was coached by Bucco Bruce Arians in Pittsburgh and in Arizona. He also blocked for Leftwich in the Steel City.
Speaking about the Jameis Winston experience this week on SiriusXM NFL Radio, Starks said he spoke to Leftwich about Jameis and learned the Bucs' offensive coordinator has a soft spot for America's Quarterback.
"Talking to Byron, he has an affection for Jameis because he reminds him a lot of himself," Starks said. "And he's a guy that has a big arm, a big heart, and a true team leader and the guys follow him and they trust him."
The combination the Leftwich love, Arians' presence and experience with QBs, and the Bucs playing themselves out of a high draft pick, is the "perfect recipe" for Jameis to return next season on the franchise tag "and then allow the chips to fall where they may and decide his future after next year."
Joe has no doubt that a confident pair like Arians and Leftwich believe (rightly or wrongly) that they can fix Jameis, or at least get him down to one turnover per game next season.
"Huge arm talent, high-risk, high-reward" is how Starks described Jameis.
Like Starks, Joe expects the Bucs are heavily leaning toward franchising Jameis and kicking the big-commitment can down the road with a head coach who turns 68 next October.