Buccaneers-Lions, Open Thread
December 15th, 2019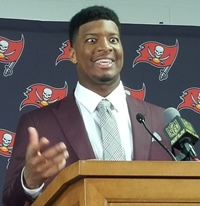 Our 6-7 Buccaneers are fighting for NFL-wide respect today — and to avoid humiliation against a garbage Lions team.
Talk about the action all game long in the comments section below. Play nice. Keep it clean.
Kickoff at 1 p.m.
Big day, as usual, for the future of America's Quarterback, Jameis Winston.