Buccaneers 38, Lions 17
December 15th, 2019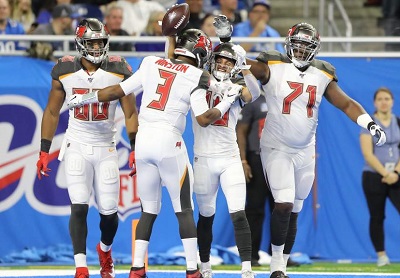 Domination!
Against a crap team on the road today, our Buccaneers did exactly what they should have done — and how they should have done it. Well, almost.
After the seemingly obligatory Jameis Winston, opening-drive interception got out of the way, Tampa Bay mauled the Lions and the game appeared over at halftime.
No Donovan Smith? No problem.
No Mike Evans? Chris Godwin had a five-catch, 121-yard day and America's Quarterback spread the ball around like a superstar. Brashad Perriman had his second career day of the season.
No running game? No surprise.
In-game hamstrings injuries to Godwin, Scotty Miller and Jordan Whitehead? Handled.
The Bucs defense stayed aggressive and you just knew Lions third-string QB David Blough would have enough issues with the Bucs' pass rush, unique blitzes and disguised coverages.
And the Bucs got a big play from their defense, which has become a common occurrence through this four-game wininng streak. This time, it was a Sean Murphy-Bunting pick-6 with about six minutes left to play.
Now the Bucs are 7-7, and Saturday against the Texans at the Den of Depression sets up as the Bucs' 2019 Super Bowl. It's a chance to prove they're for real against a good team, their last chance of the season.
Enjoy four in a row, Bucs fans! Joe sure will. It feels damn good.