New NFL Record For Jameis Winston
December 15th, 2019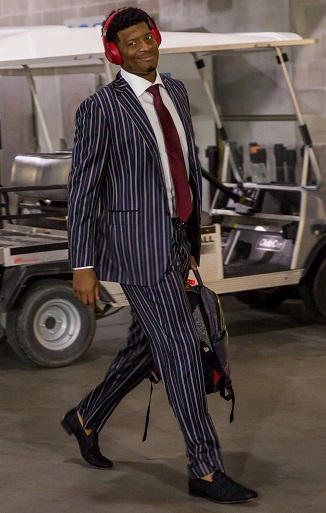 America's Quarterback is now in the NFL record books — and it has nothing to do with turnovers or anything to make the haters drool.
Today's stat line on Jameis Winston against the Lions reads 28-for-42 for 458 yards with 4 touchdowns and 1 interception.
Last week versus the colts, Jameis was 33-for-45 for 456 yards, 4 touchdowns and 3 interceptions.
No QB in NFL history ever has recorded back-to-back games with 450 yards or more passing. You've never seen it before. And it came with two glorious victories.
For those wondering, Jameis also is en route to another mark that will live in the NFL record books if he gets it: the title of NFL passing leader for the 2019 season. Jameis has a 451-yard lead on Cowboys QB Dak Prescott, who plays later this afternoon.
No other QB is close.
Yes, folks, Jameis will return for his sixth NFL season. It's as good as a done deal now.
Jameis Winston has 4,573 yards passing with two games to play. Barring a miracle game from Dak Prescott today. Jameis will lead the league in passing after this week's games.

— JoeBucsFan (@JoeBucsFan) December 15, 2019