Bruce Arians & The Silly Season
December 31st, 2019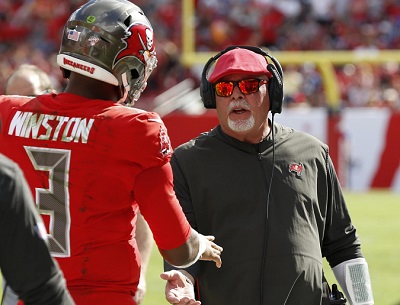 Silly season is underway at One Buc Palace and across the nation.
Who could forget last year's silly time, highlighted by Bruce Arians' eagerness to work in Tampa with Ryan Fitzpatrick and DeSean Jackson.
Chattering yesterday with local reporters, Arians was asked if the Bucs are good enough to win with another quarterback, you know, a guy not named Jameis Winston. The question seemed to surprise Arians.
"With another quarterback? Oh yeah. We can win with this one. We can definitely win with another one too because we're going to have a defense," Arians replied.
And right on cue, national media and other outlets ran with the one-liner that Arians said the Bucs can win with another QB. Big headlines! Sound the alarms! Arians is running Jameis out of town!
Joe has to caution fans that this is the time of year coaches, even candid ones like Arians, turn into politicians, contract-leverage-makers and chief perception-builders.
Soon, Joe suspects we'll hear the annual Tampa Bay song. You know the chorus, "We lost a lot of one-score games, so we're oh so close. Oh yeah."
Just yesterday, Arians was dropping gems, like talking about how Matt Gay has to spend all spring kicking in the end zone of the Den of Depression where there's "crazy wind on the back side of that stadium." Joe had to laugh. Is there a reason Gay couldn't have spent, say, all week there in August or November and December instead of next spring? Last Joe checked, the Bucs have a dedicated kicking coach and the keys to the stadium.
Joe's not knocking Arians, just noting this is the time of year when it's harder to inhale the smoke.
Of course the Bucs are good enough to win with a quarterback not named Jameis. As Arians said, with a defense.
There are plenty of QBs around the NFL who can throw effectively to a stellar receiving corps behind a good pass-blocking line, and probably be a more effective leader than Jameis is. Everybody knows that.
But would one of those guys be on the market? That's a totally different question.