Chris Harris And The Buccaneers
December 31st, 2019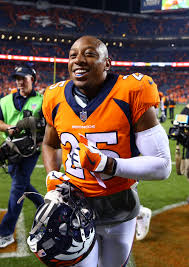 There's fresh news on a free agent Joe has eyes on.
Through nine seasons with the Broncos, versatile cornerback Chris Harris has four Pro Bowl trips, an All-Pro nod and a Super Bowl Ring. But perhaps more important is he has mad respect around the league and his team still thinks he's worth a ton of money.
Veteran reporter Mike Kils in Denver shared on Twitter last night that Harris, who becomes a free agent when the dinner bell rings in March, turned down $12.5 million in guaranteed money for the 2020 season from the Broncos. Per Klis, the deal was offered at the October trade deadline as part of a two-year $25 million extension.
Harris, 30, is one of the NFL's great stories as an undrafted free agent safety out of the University of Kansas.
About 10 days ago, Joe listened to Harris interviewed on CBS Sports Radio. Harris was adamant that he wants to get back to playing a healthy share of nickel cornerback. This season, Harris said, new Broncos coach Vic Fangio used him almost exclusively on the outside to lock down opposing teams' top receivers.
It's not like Harris was getting roasted. The Broncos were a top-10 defense through the season and pass defense was their strength.
Joe has heard Bucco Bruce Arians and former Arians players say that his goal is one strong leader in every position group, one veteran guy to lead each crew. So Joe believes Arians will look to find that guy this offseason for his defensive backs.
Yes, Joe knows the Bucs have three young cornerbacks in Carlton Davis, Jamel Dean and Sean Murphy-Bunting, guys who showed development through the season. But the goal is to get signficantly better, and the Bucs' defensive weakness remains its secondary.
There might be better fits out there, but Harris' versatility, experience and durability (he's missed 5 games in 9 years) are very attractive.