Revealing Words From O.J. Howard: "I'm Finally Getting The Hang Of It"
November 17th, 2019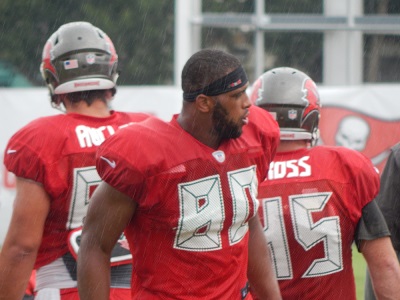 Speaking on national radio, O.J. Howard painted himself as a guy who was slow to get the Bucco Bruce Arians offense.
This might be the best explanation yet for why Howard's numbers have dropped significantly this season. They fell off so badly, fans were actually dancing about Howard having 44 yards receiving last Sunday against the Cardinals, along with his first touchdown of 2019.
On SiriusXM Fantasy Sports, Howard was asked to name the biggest adjustment for him going from Dirk Koetter's offense to Bruce Arians'.
"The concepts, the route concepts are different, just learning how to get open in those," Howard said. "You know, that's not much us out wide a little bit or in the slot. It's more in-line type of running routes, so you have to do more getting open out of that kind of alignment. So it was a little different for me. But I'm finally getting the hang of it.

"That's the most encouraging thing, finally getting the hang of it."
Very interesting to hear Howard twice mention "finally getting the hang of it" with emphasis.
The Bucs' top tight end also acknowledged that not having a touchdown this season until last Sunday was weighing on him a bit. Howard had 11 touchdowns through his first two seasons.
Asked to compare the Bucs' offense to other offenses he's been in, Howard said he likes how the Arians way is designed to county any defense.
"It's just the way we go about picking up our hots and adjustments. Every play allows us to get to a hot route or, you know, just to expose the defense whatever [it] brings," Howard said. "There's always an answer to whatever the defense is lined up in. That's probably one of the biggest things for us this season."
Joe hopes Howard has turned a corner with his learning curve and find a breakout game today.
One more nugget of note, Joe listened to a lot of Arizona sports radio following the Bucs-Cardinals game, and a member of the Arizona media spoke on air about how Bucs assistant coaches (guys who used to coach in Arizona) shared before the game that O.J. Howard got a lot of work in practice and would have plenty for him on the call sheet to take advantage of the Cardinals' year-long struggles with tight ends.
Maybe a confidence in Howard is growing from Bucs coaches, as well as within Howard himself.
---
TAMPA TWO is back with a look at the Saints game and the launching of Vernon Hargreaves. Derrick Brooks and Ira Kaufman deliver.