Antwaan Randle El Talks Jameis Getting "Thrown Under The Bus" & More
December 5th, 2019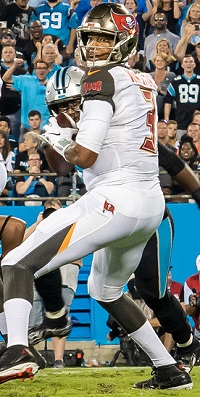 Quarterback, receiver, returner, Bucs offensive assistant coach Antwaan Randle El was one hell of a football player and athlete.
He was drafted to play baseball out of high school, and he played two seasons of college basketball for legendary Indiana University coach Bobby Knight.
So Randle El is a guy at One Buc Palace with a strong understanding of America's Quarterback, Jameis Winston, who also was a multi-sport athlete in college. (Randle El played college baseball, too.)
A visitor to Buccaneers Radio this week, Randle El spends time encouraging Jameis to stay confident, he said, because Jameis already has quarterback coaches and Randle El doesn't want to "step on toes."
"He's a guy who gets out of the pocket; I try to tell him, man, 'you gotta get down sometimes,'" Randle El said. "Because he's always involved. Like he can hand the ball off and then he runs and tries to throw a block. I'm like, 'No, man, You might do that in college, you don't do that in the pros.' But that's my biggest thing with him, just being able to encourage him.

"Even this year, seeing the growth that he's made from Game 1 until now, and everybody talks about the interceptions. I think he's at 20. Right now, we look at it as coaches, yeah, he's at 20 interceptions but 10 or 11 are not his. You know, so it's like he gets thrown under the bus and obviously gets a lot of blame for it. But he's still [top 3] in a lot of statistical categories and stuff like that. So we got a guy that's playing well, playing well enough. We want him to make some adjustments here and there. But that's part of learning this new offense; he's in a new system and we know he's starting to come out of that a little bit. So we'll see how that works out."
Joe has talked to Randle El and listened to him speak a handful of times. He doesn't strike Joe as a guy prone to coachspeak BS. So it intrigued Joe to hear Randle El talk about Jameis only being responsible for half his picks and getting "thrown under the bus."
He also sort of echoed the "we'll see" approach Bruce Arians threw out there yesterday when asked about Jameis' future in Tampa.
---
Presented by Caldeco Air Conditioning & Heating, TAMPA TWO is back and humming with Buccaneers legend Derrick Brooks & Sage JoeBucsFan.com columnist Ira Kaufman. Among other things, Brooks ponders, "How do you play with a lead, a three- or four-score lead and finish a team off, versus did you let a team hang around too long?
Enjoy!