Arians Punts Question On Jameis' Future
December 4th, 2019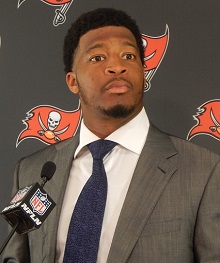 Head coach Bucco Bruce Arians was asked today whether he would endorse Jameis Winston as the Buccaneers' quarterback of the future if he were to sit down this week for a meeting with Bucs ownership and the subject arose.
"I'm going to pass on that one. I'm going to wait til the end of December," Arians replied to JoeBucsFan.com columnist Ira Kaufman.
"There's been really, really good and really really bad."
Arians went on to say he'll let the season play out and address it then.
Certainly, Arians had a lot of ways he could have answered that question. He chose to take the direct route — which indirectly puts a load of pressure on Jameis over the final four games of his rookie contract.