Why Does Bruce Arians Sound Like He's Pleased By A Moral Victory? (Video)
November 3rd, 2019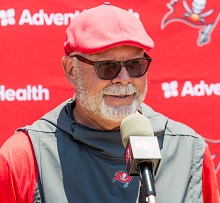 After a soul-sucking, choke job of an overtime loss in Seattle this evening, Joe can't understand the postgame tone of typically fiery Bruce Arians.
It's puzzling. Arians is seen and heard bursting with pride, brimming with positive vibes because he believes his team is growing. Joe recommends the news conference video below. It's an awful lot different from last Sunday's, when the Bucs lost another choke job in Tennessee and Arians was hot.
The Bucs' season was on the line today. Win and you're in the playoff hunt; lose and you're toast. But there stood Arians seemingly talking about moral victories — while fans across Tampa are seeking counseling, weeping and heading to CVS for Tums.
There are no moral victories in the NFL, not when you have an explosive offense like the Bucs do with a veteran-laden team in the trenches on both sides of the ball, plus at the skill positions.
This is the same head coach who crowed months ago that his team was reloading, not rebuilding.
What's going on here? It feels like an imposter Arians has appeared.
Jameis Winston's postgame news conference also featured a guy a little too calm and seemingly resigned to losing.