The Collapse Of The Run Defense
November 17th, 2019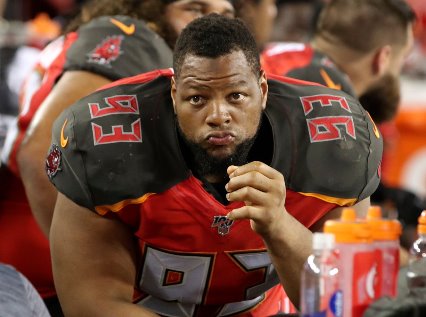 The Bucs' No. 1-ranked run defense fell apart today.
It might have been the biggest stunner in today's 34-17 blowout loss to the Saints.
Saints running backs cranked out 25 rushes for 109 yards. No real big runs for New Orleans, just a punishing grind-it-out attack.
On one play in the first half, Ndamukong Suh appeared to play pattycake with Alvin Kamara when attempting a tackle. It appeared to be a low-effort kind of attempt caught by the FOX cameras. But that's just one snap. Overall, the Bucs had no answers for the Saints ground attack.
It led to the Saints cranking out a whopping 37 minutes of time of possession, compared to 23 for the Bucs.
Of course, the Bucs' pass defense wasn't there, either. But Bucs fans knew that would happen before kickoff.
A complete loss today for the Bucs.