Thank You, NFL
November 3rd, 2019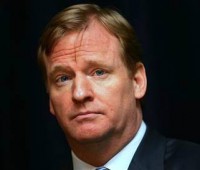 Bruce Arians admitted it. A good reason for today's loss goes to…
NFL strongman Roger Goodell.
No, Goodell did not make a phone call to reverse a critical call. But it was the NFL's schedule made this spring — which NFL suits admitted maybe if they could take a schedule back it would be the Bucs' schedule — that did the Bucs in today.
In the span of the last six weeks, the Bucs made trips to Los Angeles, New Orleans, London, Tennessee and Seattle. That's a whole lot of frequent flyer miles.
And if you thought Jamel Dean was gassed, you were probably right. For one, it was the most snaps he played at corner playing for injured Carlton Davis.
Secondly, Arians, speaking postgame on the Buccaneers Radio Network, admitted all the traveling finally caught up with the Bucs today.
That may explain why the defense was pretty much a sieve in the second half (nevermind the secondary is garbage to begin with).
But it wasn't like the Bucs didn't see this coming. More on that in a moment.