Seahawks 40, Buccaneers 34 (OT)
November 3rd, 2019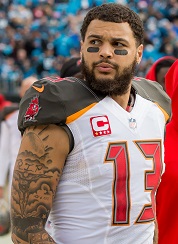 Welcome to Buccaneers football. It's very entertaining if you're not a Bucs fan.
More was learned about Tampa Bay today.
Here are highlights:
The football field isn't big enough for Scotty Miller. Where's Donteea Dye?
Rookie cornerback Jamel Dean isn't ready to use his length, speed and athleticism consistently, the reasons he was drafted, at least not in this game. And he wasn't fit enough at the finish, which was embarrassing.
Despite two missed kicks by Seattle, a gift of a roughing the passer penalty, blown coverages, and seemingly nobody able to cover Mike Evans while Jameis Winston had a good day, the Bucs managed to lose by choking away a big lead. It's what bad teams do over and over.
Evans' prime is so much fun to watch, and it's so sad that it's being wasted. Hard to believe he's halfway through his sixth season. He's on pace for 100 catches and personal highs in touchdowns and receiving yards.
At 2-6, the Bucs' postseason hopes are toast. Dirk Koetter never started worse than 3-5.
Devin White's huge upside is evident, but his questionable coverage and tackling was on display in this game. Speaking of mis-tackles, four whiffs– FOUR! — cost the Bucs on Chris Carson's 59-yard run that led to a critical score.
Ronald Jones was ok as a starter and bellcow running back today, but ultimately the Bucs don't have what they need at the position.
Joe would write that the Tampa Bay pass defense sucks, but you already knew that.
Hang in there, Bucs faithful.