Oddsmakers Betting On Jameis
November 16th, 2019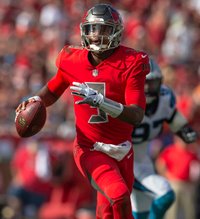 Guys who get paid big money to scrutinize the NFL and run highly intricate spreadsheets have made a very interesting call on the Buccaneers' starting quarterback, a man with no contract for 2020.
If you sniff around the legal sportsbooks, you'll often find America's Quarterback, Jameis Winston, as the current favorite to lead the NFL in passing yards this season.
(Yes, you can bet on that kind of stuff.)
On the Draft Kings online sports book (not legal to wager in Florida), Jameis is the +225 favorite to lead the league in passing. Dak Prescott is next at +275, followed by Patrick Mahomes at +400 and Jared Goff at +800.
Currently, Jameis ranks third in passing yards behind Philip Rivers and Prescott.
There are a few key factors at play, Joe believes. First, the oddsmakers obviously see shaky pass defenses in Jameis' 2019 future (Atlanta twice and the Lions, among others), and they see how the Bucs' run game is fading with Ronald Jones averaging 3.4 yards per carry through his last six games. Also, Jameis is healthy and the lousy Bucs pass defense makes it more likely that he will keep throwing and throwing every week.
Jameis is tied for third in the NFL in total pass attempts with 355.
---
TAMPA TWO is back with a look at the Saints game and the launching of Vernon Hargreaves. Derrick Brooks and Ira Kaufman deliver.