Bucs Have NFL Worst & Best On Pass Interference Calls
November 16th, 2019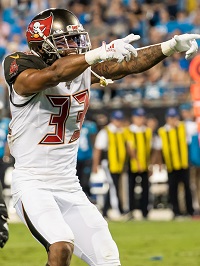 Coaches talk a lot about complementary football, but this is not what they have in mind.
Nate Weller of Sharp Football Analysis has compiled date on pass interference calls and the Bucs have league leaders on both sides of the ball.
On the defensive side, cornerback Carlton Davis has four PI calls against him for 70 yards. That leads the NFL in total yardage given up to the dreaded PI flag. And keep in mind Davis has missed two games this season and was ejected early in another.
Mike Evans, however, is the king of drawing valuable PI flags this season. Guys covering him have been flagged six times for 113 yards. Deon Colts wide receiver Deon Cain appears to be second with 99 yards gained from two PI penalties against him.
Joe hopes Davis plays a little smarter, and that the Bucs get a little smarter by throwing more deep balls to Evans.