TV Map For Saints-Bucs
November 16th, 2019
If you live within the Gulf Coast states, or about half of SEC Country, you will likely get the Saints-Bucs game on free TV.
Yes, Florida is one of those pockets. Most of the Sunshine State will get to watch the Saints-Bucs game on their local FOX affiliates, along with viewers in Alabama, Mississippi and Louisiana.
For Bucs fans outside a Gulf Coast state, you better have NFL Sunday Ticket or plan to hit up your local watering hole to watch the 1 p.m. EST kickoff.
Of course, Joe always recommends local fans take in the Bucs and the full slate of NFL action at Abe's Place in Clearwater. The menu rocks.
Thom Brennaman will call the game with Chris Spielman providing analysis. Shannon Spake will prowl the sidelines. It will be the second week in a row the trio will work a game in Tampa.
As always, the map is courtesy of 506sports.com.
FOX broadcasts: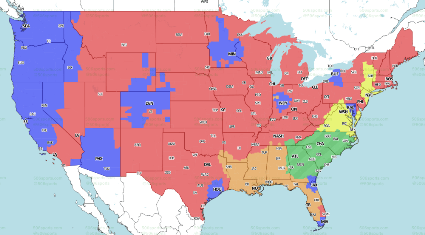 Orange/Brown: New Orleans @ Tampa Bay.
Red: Dallas @ Detroit.
Green: Atlanta @ Carolina.
Yellow: NY Jets @ Washington.
Blue: Arizona @ San Francisco (LATE).