"Good, Bad Or Ugly He Goes To The Next Play"
November 10th, 2019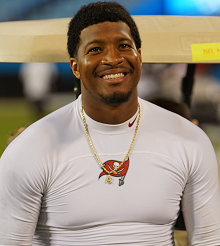 In this glorious win against the Cardinals today, Joe learned little about America's Quarterback, Jameis Winston, and the looming Decision Jameis.
The game was sort of a microcosm of Jameis' career.
Lotta fight. Big blunders. Big numbers. A lot of ability to bounce back within a game.
That latter quality was cheered by a drained Bucco Bruce Arians after today's thrilling victory that saw Jameis throw two ugly interceptions and then finish with big numbers and a game-winning, 90-yard drive.
"Good, bad or ugly, he goes to the next play," said Arians, adding that Jameis is maturing well as a professional in that area.
Jameis sure did find confidence after rough patches within the game. He threw some big-time darts, including a missile to Scotty Miller. Joe wouldn't have been brave enough to throw Miller's way after he dropped a touchdown.
Regardless, Jameis remains the most inconsistent starting quarterback in the NFL. This appears to be who he is.
Today, he's cradling a well-earned "W," and also savoring the fact he outran Kyler Murray.
Yes, the winning X-factor matters, so good for Jameis. How much it matters is a January question for Team Glazer.