Confidence-Saving Win For Ronald Jones
November 10th, 2019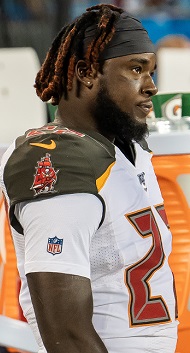 Imagine how Ronald Jones' self-inflicted fumble would have weighed on the 22-year-old if that mid-fourth-quarter blunder had turned out to be the game's most crushing blow against the Bucs.
Yeah, the victorious Bucs are now 3-6,  but Joe might be most happy now for Jones' confidence.
Bucs fans heard all offseason that Jones not only needed a confidence boost, but fans heard coaches and players repeatedly prop the guy up to build that confidence.
And it worked.
RoJo has turned into a real NFL running back. And while he couldn't run the ball well consistently today (11 carries for 29 yards) and was outplayed on the rushing front by Peyton Barber, Jones had a career day catching the ball with eight receptions for 77 yards on eight targets.
Joe saw RoJo fumble that ball untouched and then him hanging his head on the sidelines, and Joe couldn't help but think of whether RoJo was too fragile to handle it if the Bucs lost.
But they didn't. Barber got the call on the game-winning drive and Jones was taken off the hook.
Joe sure hopes Bucco Bruce Arians keeps starting Jones and getting him valuable experience and confidence in this lost season.