Five Things
November 25th, 2019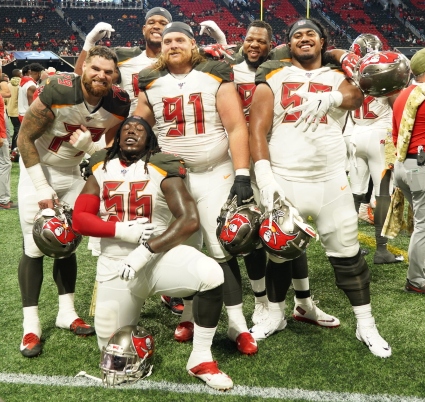 Welcome to Victory Monday. A rare occurrence around here. Let's get to it so you can get back to work.
"I Thought It Was A Dream."
One of the coolest things in football is big guy touchdowns. You don't get much bigger than Vita Vea and to see him run a pass pattern and haul in a touchdown, well, that will be remembered for years.
Now Vea is a super nice guy. Big ol' teddy bear. But man, does he hate to talk to the Fourth Estate. Vea is absolutely paranoid that something he will say to a reporter will somehow get him fined. You could get more information from Crackhead Bob calling a Chinese restaurant for delivery than you usually get info from Vea.
But yesterday, after Vea pulled off the rare feat of getting a sack and catching a touchdown pass in the same game, Vea was bubbling over with glee, talking far more than Joe ever heard him.
"It was like a dream come true," Vea said of the touchdown catch.
It probably was a dream. Vea, though he was a running back in high school, told Joe he never caught a pass in high school. And he never caught a pass at the University of Washington, either.
Vea is a good dude and Joe is happy for him. That play just demonstrated what a freak Vea is on the field of play. Even Chris Godwin noted Vea may be the best athlete on the team.
Just think, boys and girls, Vea hasn't started 20 games yet. Lot of good football to come from him.
Explosion
Yes, Joe already wrote about how cornerback Jamel Dean has blown up in his last few games. As a result, largely due to his five passes defended yesterday, Dean is one of the top players in the NFL in passes defended. Logan Ryan of Tennessee has 16. Jaire Alexander of Green Bay and Shaq Griffin have 13, tied with Dean.
This is just about unbelievable because Dean technically has only started one game (yesterday), and only once logged over half of the defensive snaps (Joe is still waiting on yesterday's snap count to publish).
So basically Dean has been a very part-time corner and only one NFL player has more passes defended than he does.
This is both good and bad. The good is obvious. The bad is, why wasn't Dean playing a helluva lot more a helluva lot sooner when the season could have been saved?
Pounded
When is the last time the Bucs' defense beat up a Pro Bowl quarterback so much his team waved the white flag and pulled the quarterback with time left in the game?
Well, that was the Bucs and Matty Ice of the Dixie Chicks yesterday. Atlanta pulled Ryan late because the Bucs were just teeing off. "I know I'm going to be sore [Monday]," Matty Ice said after the game.
The Bucs hammered Matty ice for six sacks and 13 (!) quarterback hits.
It reminded Joe of the Bucs choking out Russell Wilson at the Den of Depression in 2016 (six sacks, 12 QB hits) in a 14-5 win.
Shaq Barrett hit Matty Ice so much yesterday (sack and five quarterback hits) that Matty Ice likely has a tattoo of the Bucs' helmet flag decal plastered on his ribs.
"We prepared well, we manned up," Barrett said.
If the Bucs can continue to beat up quarterbacks like they did yesterday, this defense really could be something.
Career day
Bucs receiver Chris Godwin is just sensational. And if many had their choice, Godwin would have stayed a bit player.
Joe was among those who bellowed for the Bucs to keep reliable Adam Humphries this past offseason. He had a strong rapport with America's Quarterback, Pro Bowler Jameis Winston, and Humphries was good for YAC too.
But Bucco Bruce Arians wanted Godwin. Arians thought Godwin might be able to put up Larry Fitzgerald-like numbers. Man, Arians sure knew what he was doing.
Arians looks like a genius letting Humphries go. Godwin had 184 yards receiving yesterday, a career-high. Godwin and Mike Evans became the first two receivers on the same team to each record at least three 150-yard games in receiving.
Godwin also has 1,071 yards this season, his first 1,000-yard season.
Humphries was and is a good dude. But right about now, is anyone missing Humphries?
Godwin is a star and Joe doffs his cap towards Arians for recognizing this.
Shaq Attack
Barrett has an outside shot of setting the Bucs' franchise record for sacks in a season. Warren Sapp has the record of 16.5 sacks set in 2000. With a sack yesterday, Barrett now has 12.5 and no Bucs player has ever had so many through 11 games.
Barrett would need four sacks in the next five games to tie Sapp, and five more sacks the rest of the season to set the record. Sapp had 11.5 sacks through 11 games in 2000.