Five Things
November 18th, 2019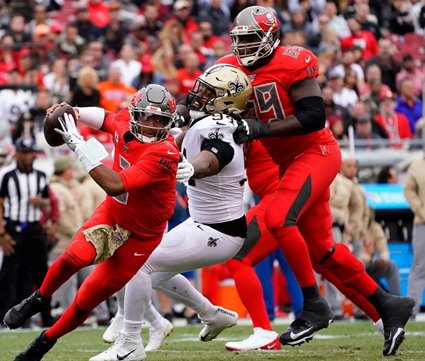 What a dreary day it was yesterday at the Den of Depression. And folks wonder why Joe has tagged the stadium with that moniker. Let's get on with it.
No Better
The Bucs suffered their worst beatdown of the season. They couldn't pass the ball. They couldn't run the ball. They couldn't block. They couldn't defend the pass. They couldn't rush the passer. They couldn't stop the run.
Other than that, how was the car ride, Mrs. Kennedy?
In no uncertain terms, both Bucs coordinators were shamed by Sean Payton and his Saints assistants.
This wasn't supposed to be. The Bucs went out, backed by massive checks from Team Glazer, to get the best, most experienced coaching staff available. It's certainly the biggest staff in the NFL.
Does this team look well-coached to you?
A good coaching staff would have either identified long ago the Bucs needed help in the secondary or would have coached up the players enough to at least play respectably.
A good coaching staff would have found a way to get quarterback pressure from players other than two guys.
A good coaching staff wouldn't constantly run Peyton Barber up the middle, often on first down.
A good coaching staff wouldn't be forcing passes to two subpar receivers and sometimes ignore two NFL stars in the receiving corps.
A good coaching staff wouldn't take two Pro Bowl-level tight ends and have both in the midst of their least effective NFL seasons.
What has this coaching staff done well? A few individuals have shined. Shaq Barrett blew up here in Tampa. America's Quarterback, Pro Bowler Jameis Winston, could finish the season as the NFL's leading passer (in yards). Lavonte David is having an outstanding year (but is that really a stretch from coaching?). Vita Vea anchors what was an elite run defense. Ronald Jones' career was saved.
But overall, has this coaching staff made this team better, this platoon of coaches? Joe thinks it is fair to suggest Team Glazer is not getting its money's worth. An individual success story here or there doesn't make up for a collective cow patty of a team's rotten play.
The Bucs have six games left and have to win no less than half to finish with a better record than the last two seasons. Three of those teams the Bucs will face have losing records (Atlanta, the Bucs will play twice and is not playing like a losing team).
The way this team is playing, winning half of their remaining games seems like a big-time stretch. And Joe doesn't think Team Glazer went through all the trouble (and cost) to pull Bucco Bruce Arians out of retirement just to win one more game.
Somewhere in the toney Atlanta northern suburbs, Dirk Koetter is snickering in his beer.
Inexcusable
Look, Joe has nothing against Scotty Miller or Breshad Perriman. But Joe has a hangup about getting your best players the damn ball.
Yet week after week after week after week this Bucs offense, come hell or high water, is going to force balls to Lance Alworth and Michael Irvin Miller and Perriman.
Why?
Finally — finally! — Jameis completed a bomb to Miller. Cool, great! But how many first downs if not touchdowns this season were p!ssed away by Bucs offensive coordinator Leftwich having Jameis force passes to Miller and Perriman.
Yesterday was another frustrating day. The offense was going nowhere yet Mike Evans and Chris Godwin were barely targeted in the first half while the Saints jumped out to a three-score lead.
Why?
Do we see Drew Brees throwing to some scrub all the time instead of Michael Thomas? Do we see Deshaun Watson throwing to some stiff instead of DeAndre Hopkins? So we see Patrick Mahomes throwing to some glorified practice squad player from Benedictine College instead of Cheetah Hill? Hell no!
Mike Evans said after the game yesterday that the Saints were using the very same coverages on him as the last time they played. The only difference was, no Marshon Lattimore.
Yet for reasons unknown, Leftwich couldn't adjust, much less have a decent gameplan against a defense he and his players have already faced.
And still Dare Ogunbowale had more targets in the first half than Evans or Godwin.
Who does this?
The Bucs.
More Leftwich Mania
Let's see, you have a potential Hall of Fame receiver, a potential Pro Bowl slot receiver, two tight ends who, before this season were Pro Bowl-level talents, a second-round pick of a running back who has been reborn and America's Quarterback, Pro Bowler Jameis Winston.
And Bucs offensive coordinator Byron Leftwich had his offense outgained at one point in the first half 198-11.
Think about that: only 11 friggin' yards. With that talent?
Did Marcus Arroyo sneak back into the building?
Joe remembers when the Bucs hired Leftwich, Joe had pause because Joe thought Leftwich did an awful job in building (ruining?) first-round pick quarterback Josh Rosen. And man, did Joe get flamed for writing that.
Now that we have had 10 games under our belts, doesn't Leftwich look more like the guy who had a hand in melting down Rosen than the second coming of Bucco Bruce Arians?
Devin White Update
It seems the rookie is really coming around in the run game.
In the pass game, wwweeelll… 
White had a nice day against the run. On a day when it appeared the run defense is starting to get rundown from a long season, White stepped up. He had 13 tackles yesterday, 11 solo.
In the pass game, White got roasted over an open fire by Alvin Kamara. But White is coming around after an invisible start to the season combined with a minor knee injury.
What A Kick!
One of the few bright spots yesterday was the 55-yard field goal from rookie kicker Matt Gay. The pride of Utah pulled the Bucs within two scores at 20-10 in the third quarter when Demar Dotson got flagged for a false start, which blew up a promising possession.
The Bucs instead settled for a long field goal. Gay didn't disappoint.
Aside from blowing the Giants game earlier this year, Gay has been solid.
Bonus nugget from Ira Kaufman: The Bucs the past five years are 0-13 when rushing 20 or fewer times. Yesterday, the Bucs ran the ball eight times, twice by Jameis.
Sad Notice
In closing, Joe wants to offer condolences to the family of MacArthur Boykins, quite possibly the smartest Bucs fan Joe knew of. Well, sort of knew.
You see, Boykins appeared on this site as commenter, "Macabee," and on social media and other sites. Joe never met him; never spoke to him, but did communicate with him through email and Twitter. If there is another Bucs fan who read about the Bucs more than "Macabee," Joe is not aware of the guy (or girl).
Joe honestly doesn't think there was a story written about the Bucs that Macabee didn't read. His thousands of comments on this site, which first appeared in February 2011, were always thoughtful and intelligent. He came across as a really, really cool guy who just couldn't inhale enough information about the Bucs.
Macabee, 74, was a former marketing executive at GTE. You can read his obituary here. Per Greg Auman of The Athletic, who spoke with one of Macabee's sons, the first thing Macabee did each morning was nurse his coffee while reading Bucs articles in the Tampa Bay Times and comments on JoeBucsFan.com.
Yes, Joe is sad to have lost a top-shelf Bucs fan, and by all accounts a good, decent human being. And of course, a family lost a loved one. We, as a local community, are worse off. Joe only wishes he got a chance to meet Macabee. It's guys like that (and other readers) who allow Joe to do what he does. Joe never loses sight that without loyal readers, this site simply would not exist.
Joe hopes if Macabee's family reads this, it helps them in some way get through tough times. He will be missed in Bucs fandom.