Entertainment!
November 13th, 2019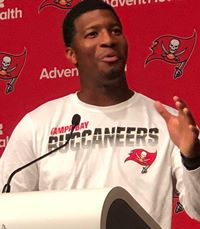 The NFL and football in general boils down to entertainment. If one is not entertained, then what is the point of wasting three hours?
And in the mind of Sheil Kapadia of The Athletic, there is no more entertaining pairing in the NFL than no-risk-it-no-biscuit coach Bucco Bruce Arians and high-wire act, America's Quarterback, Pro Bowler Jameis Winston.
Kapadia is convinced that on just about every Bucs' possession, one of two things will happen: touchdown or turnover.
And that, Kapadia types, is not just entertainment but must-see TV, and television networks are missing out not broadcasting Bucs games nationally.
The entertainment value of the 2019 Buccaneers

Whether they win or not is largely irrelevant (for the record, they beat the Cardinals to improve to 3-6). But the Jameis Winston/Bruce Arians combination is guaranteed to provide entertainment value every week. They are the 2019 "Don't give a [insert word of your choice]" team. Just look at their game Sunday. It was vintage Winston. He threw for 358 yards and had completions of 25-plus yards to four different receivers. He also threw two interceptions, had a fumble and was sacked four times. Nine of their 12 possessions either ended in a score or a turnover. And then there's Arians, who is openly feuding with officials. He used his last challenge on a defensive pass interference call he had no chance of winning. Then with 6:31 left in a game where the Bucs were trailing 27-23, he threw the red flag to challenge what he thought should be a Kyler Murray sack. The only problem? Arians didn't have any challenges, and the Bucs got docked a timeout. …

Bottom line: The Bucs do crazy stuff each week. They should play every game at 9:30 a.m. EST Sunday so that we can all watch — like those London games, except in America.
Joe has concluded one thing that is great about Jameis is every time he drops back, you are at the edge of your seat holding your breath. Watching Jameis is like watching 24. You don't know what's going to happen next but it likely will be wild.
A Jameis dropback is like watching NHL playoff games in overtime when a right-wing winds up to shoot. It could be great; it could be disastrous. But it sure as hell isn't boring.
But yeah, Joe knows there are people out there actually entertained by handing the ball off to Peyton Barber up the middle for no gain. Zzzzzzz…
It takes all kinds, just like there are some people that actually DVR episodes of "Barefoot Contessa."