Bruce Arians: "He's Going To Get Paid The Most"
November 13th, 2019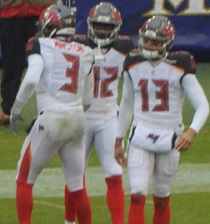 Bucco Bruce Arians was talking player contracts yesterday and it highlights a likely organizational rethinking of the Bucs roster.
Joe has written several times about the Bucs paying Chris Godwin a fortune after this season, his third in the NFL. Doing it sooner, rather than later (after the 2020 season) seems to be the smart play. Godwin eventually will want No. 1 receiver cash so try to get him to take less now in exchange for the financial security and eliminating any fears he has of injury.
But if you pay Godwin the big bucks along with Mike Evans, and you slap a franchise tag (roughly $27 million) on Jameis Winston, then what?
Well, the quick answer is you should score a lot of points and you better draft better to find more Alex Cappa-type offensive linemen.
Arians was asked on Buccaneers Radio this week about the tremendous success of Godwin and Evans, and how that affects his view of the No. 3 pass catcher role (not receiver, pass catcher).
Arians' reply let it slip that the Bucs plan to raid the Team Glazer vault for Godwin.
"As long as we keep spreading it around and the majority goes to the two guys that are gettin' paid the most — not one of them, but he's going to get paid the most. So that's the way it's going," Arians said.
Godwin is in Year 3 of a four-year, $3.3 million rookie contract. Mike Evans earns $20 million this season, but the remaining four years on his deal average about $14.5 million per season.
Joe's glad to hear the Bucs plan to lock down Godwin.
If the Bucs move to sign him right after this season — a year before his rookie deal expires — Joe suspects they could get Godwin for $15 million per season, assuming Godwin is healthy and has any kind of decent finish to 2019.