Elite At Yardage, TD Throws, Deep Balls & Inconsistency
November 25th, 2019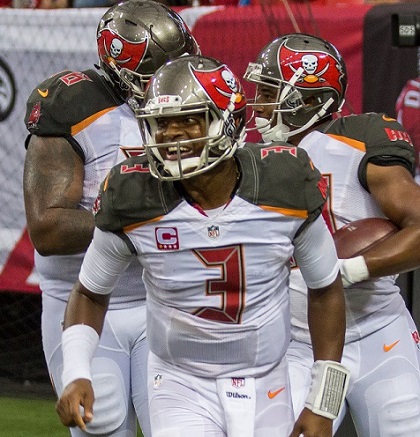 Polarizing, maddening, thrilling, exhausting, tantalizing, there are all kinds of adjectives to describe the Jameis Winston experience.
Jameis a roller coaster. Joe might have start calling him Sheikra.
As fans enjoy a Victory Monday, Jameis sits as the quarterback with the second-most passing yards in the NFL this season (3,391) and the second-most touchdowns thrown (22). He also ranks second in completions of 40 yards or more (11), tied with Patrick Mahomes.
And in case you're wondering, Jameis ranks eighth among QBs in rushing yards this season with 200.
Of course, Jameis has complemented all that brilliance with 20 interceptions. Wipe out six of them and he'd still be tied for the NFL lead.
The off-target jump pass to Dare Ogunbowale intercepted yesterday defined the phrase "dumb pass."
Jameis is the one of the most wildly inconsistent quarterbacks in NFL history.
Yes, winning matters. If it didn't, well, then football wouldn't be the great sports that it is.
Jameis has not proven to be a winner. But Joe is encouraged that Jameis now has three road victories this season after entering the year on a 12-game road losing streak in games he started. That's at least one hurdle it appears he's overcome.
But his biggest hurdle lies ahead: consistency.
Three of the final five Bucs games are against teams with losing records. The other two are at home. Injuries? Joe doesn't see any of the Bucs offense.
Now is the time for Jameis to find a level of consistency that has avoided him throughout his career.