"I Don't Give A Damn About Any Of That"
November 25th, 2019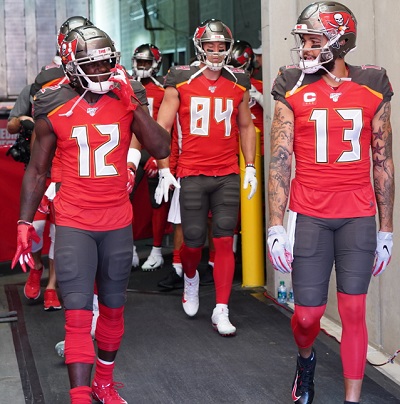 Mike Evans put his foot down on national radio last night.
The best Bucs receiver in team history joined Fantasy Football Gameday on SiriusXM Radio and was asked how he mentally handles great performances from Chris Godwin when he himself struggles or doesn't get the rock much.
The hosts, obviously, weren't dialed in to the fact Evans is a pure team-first guy.
"I don't give a damn about any of that," Evans replied. "I'm just going out there playing as hard as I can, and when the ball comes my way I'm trying to catch the rock. So that's the only thing I can worry about. I love to see C.G. shine. Of course, I'm a competitor. I want the ball, especially in 1-on-1 situations. But we have a lot playmakers on this team and I'm fine with everybody getting the rock."
No diva to see here.
After yesterday's NFL slate of games, Evans is the fifth-most targeted receiver in the league, so he certainly shouldn't be moaning about getting the football.
Evans even went on to say rookie Scotty Miller is an emerging force he's excited to see get more opportunities.
"Unbelievable speed. He's definitely one of the fastest guys in the NFL," Evans said of Miller.
Classy stuff from Evans.