Flag-Challenged Bruce Arians
November 10th, 2019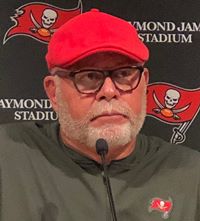 From the head coach who brought you back-to-back timeouts at Carolina late in the fourth quarter, plus taking a penalty to back up a field goal kicker for a game-ending boot against the Giants, today Bucco Bruce Arians delivered another gem.
At a critical moment in the fourth quarter, Arians threw a challenge flag that he didn't have to throw.
Why didn't he have it to throw? Because he senselessly challenged a pass interference call two minutes earlier.
Throwing the flag after you've burned your one flag throw per half costs your team a timeout if you have one. And c'mon, Coach, you know you've got no shot of winning pass interference challenge that doesn't include an outright mugging.
Trailing 27-23 with 6:31 remaining and Arizona driving, Arians tried to challenge a throwaway by Cardinals quarterback Kyler Murray; Arians thought he was sacked. (Replays showed Arians was wrong, regardless). Arians subsequently was stripped of the timeout and another bonehead game-management move was logged by a veteran head coach who hired a retired NFL official, Larry Rose, to assist him in-game on all matters that relate to officiating.
Man, that sure doesn't seem to be working.
Arians might want to get Jamel Dean a Christmas gift this season for his game-turning interception in the red zone on that drive. If the Bucs had lost, Arians' crunch-time blunder would have been magnified in a big way. The bad challenge represented a long catch-your-breath for the Cardinals and Murray, and they had a big play on the next snap.