No Coaching Change In Dallas. No Clue Why Not.
November 30th, 2019
Podcast (toddcast-todd-wright-podcast): Play in new window | Download | Embed
Subscribe: RSS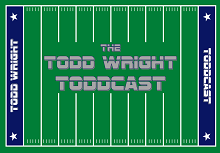 In episode 66 of The Todd Wright TODDcast, Todd wonders how Jason Garrett survived Black Friday and why this was finally the right time for Jerry Jones to make a change. The Todd Wright TODDcast is presented by Full Torque Fitness and Pin Chasers.
.
Click above to listen or to download. Or listen on Stitcher here, Google Play here, and on other platforms.
PRESENTED BY