TV Map For Bucs-Jags
November 30th, 2019
Bucs fans who live in the Sunshine State, celebrate!
Fans outside of the state of Florida, be prepared to watch somewhere other than your home, unless you have NFL Sunday Ticket, the greatest invention since the remote control.
The majority of folks in Florida will be able to watch the Bucs-Jags game using the free over-the-air feed of their local FOX affiliate. Of course, Joe always recommends local fans take in the Bucs and the full slate of NFL action at Abe's Place in Clearwater. The menu rocks. Or you can watch with Ira Kaufman at Buffalo Wild Wings in Bradenton. Ira's loves to hang out and talk Bucs football.
No FOX affiliate located outside of Florida's borders will broadcast the Bucs-Jags game.
Fossil Dick Stockton will call the game with hygiene-challenged Mark Schlereth adding color. Jennifer Hale will prowl the sidelines.
As always, the map is courtesy of 506sports.com.
FOX broadcasts: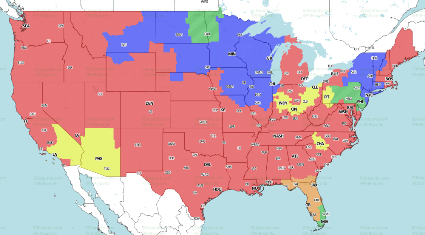 Orange/Brown: Tampa Bay @ Jacksonville.
Red: San Francisco @ Baltimore.
Blue: Green Bay @ NY Giants.
Green: Philadelphia @ Miami.
Yellow: LA Rams @ Arizona (LATE).