Buccaneers 35, Falcons 22
November 24th, 2019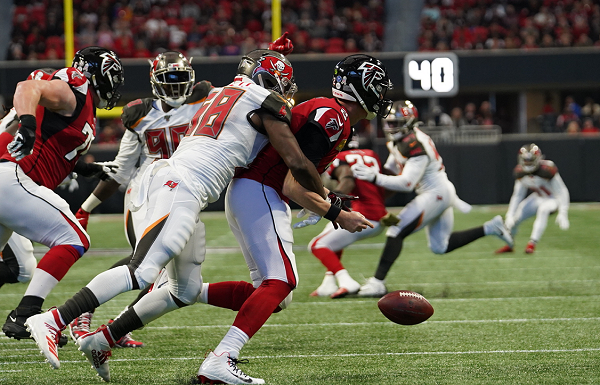 That sure was fun!
The Bucs' secondary rose from the dead and Tampa Bay climbed out of the NFC South cellar with a punishing road victory against Atlanta. The best part? The Bucs were by far the better and more physical team.
Screw the draft order. Our beloved Buccaneers have won two out of three!!
No, Joe hasn't abandoned yearning for a great draft pick. But beating a division rival always feels fantastic before Thanksgiving.
The Jameis Winston roller coaster is in full working order. Take away today's two interceptions (the stunning 99th and 100th turnovers of his career) and Jameis was a successful warrior with another 300-yard day with three touchdowns.
He sure looked a lot better than Matt Ryan, who was sacked six times and fumbled twice.
Vita Vea got it done on both sides of the ball, and Devin White cranked out two sacks, showing why the Bucs' brass told everyone on draft day he could blitz the passer effectively. Ndamukong Suh even scored his second touchdown of the season.
Heck, who needs extra points?
Chris Godwin was the best receiver on the field and busted the 1,000-yard mark for the 2019 season, as did Mike Evans. Not even the biggest Bucs fan could have imagined them getting there through just 11 freakin' games.
Todd Bowles? Take a bow. It's about time.
Stick with Joe through the evening for reaction from the happy locker room and plenty more.