Big Stats, Big Growth
November 24th, 2019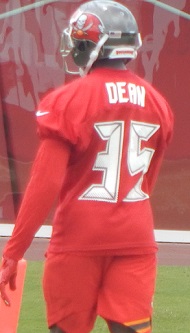 Here's an eye-opener for you.
After five passes defended today, an official NFL stat, rookie Jamel Dean now has 13 official NFL passes defensed this season. Rondé Barber only exceeded that total in six of his 16 seasons. And Dean has played in just a tiny handful of games.
Aqib Talib exceeded Dean's total in just three seasons of his standout career.
Fellow rookie corner Carlton Davis also had five pass breakups today, and an interception, and he had his hands on other balls.
It's exciting that the youngsters stood out against Matt Ryan and a very good NFL offense. This wasn't Ryan Tannehill and the Titans trying to move the ball.
As Joe wrote before the game, this was a huge game for Dean after coaches went public last week saying he needs to be on the field after they basically benched him last Sunday.
Joe has long written that if the Bucs secondary could just be decent, even a shade below average, this team would be good (not great, good).
Today's effort would make even the most sour Bucs fan believe the secondary is capable of a major turnaround.