YACmaster
November 24th, 2019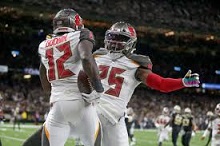 What a joy it continues to be seeing Chris Godwin take over the NFL.
The dude has 70 catches for 1,071 yards and nine touchdowns with five — FIVE! — games to play working largely out of the slot.
Godwin blocks and rarely comes off the field. And as Bucco Bruce Arians said in his post-victory radio interview today, Godwin is so "tough to tackle."
That aspect of his game is evident week after week, and it sprung him for a 71-yard touchdown in the first quarter. It's been a game-changer for the Bucs; remember Godwin's key tackle-breaking big run late against Arizona from deep in Bucs territory.
Mike Evans is a hell of receiver, the best in Bucs history. But is Evans better than Godwin right now? No. Not when you factor in the drops and the penalties and Godwin's special versatility.
Just imagine if these Bucs had a front-line running back.
In a lost season, Joe would be fired up to see Evans and Godwin starting for the NFC in the Pro Bowl.