Two Stars Shut Out
October 6th, 2019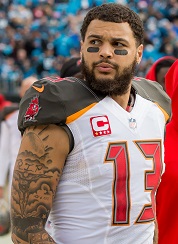 Joe's not sure how the Bucs couldn't find a way to complete a pass to Mike Evans, but somehow they did today.
That's not why Evans earns about $20 million per year.
Yeah, it happens, but Evans had been riding a streak of 65 consecutive games with a catch. He's versatile and strong, and Joe puts a lot on offensive coordianator Byron Leftwich for not finding a way to get Evans involved. Joe hates to throw love at the Saints cornerbacks, but Marshon Lattimore and Eli Apple are quality starters. (Do the Bucs have one quality corner?)
Jameis Winston, America's Quarterback, said in a radio postgame interview that "doubling Mike" freed up Chris Godwin for another big day.
The other Buccaneer shut out was Shaq Barrett, who entered the game as the best defensive player in the NFL through four games. Barrett was just about invisible with one solo tackle and an assist.
The Bucs had no sacks and just three quarterback hits. Joe warned fans about the inevitable Barrett decline. It wasn't to knock Barrett; it was to point out the pass rush really wasn't there without him and the blitzes largely haven't gotten home.
Sadly, that played out today against a backup QB.