"They Sick Of Looking At It"
October 27th, 2019
Podcast: Play in new window | Download | Embed
Subscribe: RSS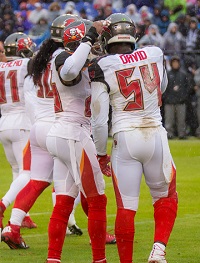 Lotta tension flowing through the Buccaneers locker room after another crushing loss, this time to the Titans in Nashville today.
There, Joe caught up to Lavonte David for a little 1-on-1. The audio is above (but Joe must caution there is foul language in the background from Jason Pierre-Paul).
David said the Bucs were ready and healthy and rested to play but yet again it just didn't happen.
He also talks about the return of JPP, and Joe was refreshed to hear David acknowledge the anguish of fans when Joe asked about slow starts year after year.  "They sick of looking at it," he said.
Joe talked to David before learning that David himself went off on teammates in the postgame locker room before media was allowed in.
Joe cut the interview a little short because JPP was speaking up and was incensed by something he was hearing from the Bucs' showers and was trying to get past Joe. JPP laid the law down to someone in the shower area and came back to his locker to finish getting dressed.
Yes, fans are in pain, more numb than anything. And Joe's getting the distinct feeling after being in that locker room that there's a deep numbness setting in on the roster.
Dressed in a suit, Cameron Brate was one of the last to leave the locker room and he walked alone from there to the team's stadium exit, about 60 yards, head down the entire time.