"The Key To It Is Sleeping On The Plane"
October 10th, 2019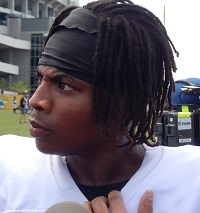 Bucco Bruce Arians has been trumpeting his cutting edge sports science staff since he was hired.
And yesterday, we learned the scientists say key to the Bucs' success against the Panthers on Sunday morning in England is players being able to sleep tonight during a late-night, trans-Atlantic flight.
Joe will refrain from being a wiseass and won't question the sports science staff. But man, getting solid sleep on a plane is difficult. Joe feels uneasy about that being part of a team's preparation plan.
Joe was lucky enough to travel on the Bucs team plane with the club two years ago on its way home from Charlotte. Conditions of Joe flying with the team included Joe not writing about things heard on the plane or the specifics of the trip. However, Joe will say that where the players sit is the exact opposite of flying coach on, say, Allegiant Air. So the big guys will recline well tonight, but it's still not a bed.
Arians said on SiriusXM NFL Radio last night that he'll have trouble snoozing on the flight but expects players to.
"The key to it is sleeping on the plane, which is very hard for me. But for the players, they need to get as much sleep on that plane. And then we'll go into a normal Friday routine, meetings and then go straight to practice and try to stay on their time," Arians said.
Some players have taken Ambien and popped melatonin this week, Arians said, in preparation for the overnight flight where they will do the same.
When Arians took his Cardinals to London, he flew out on Monday and said the team had a great week of practice in England but didn't play well.
Joe sure hopes the scientists know what they're doing — and find away to counter turbulence and/or loud snorers.
The last Bucs head coach who was militant about plane rides and other sports science matters didn't fare to well. So Joe has fingers crossed.