Clinging To A Postseason Dream
October 10th, 2019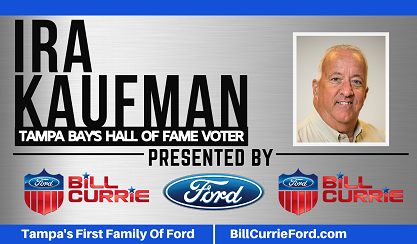 BY IRA KAUFMAN
John Lynch is making his former franchise look bad.
Don't expect any apologies from the Bucs icon, a Ring of Honor member who has overseen the resurrection of a proud franchise in northern California.
Yes, the 49ers are back, and they're back with a vengeance as the NFC's only remaining unbeaten team. Three years removed from a 2-14 debacle under Chip Kelly, San Francisco is currently listed at No. 4 in the weekly Associated Press power rankings while the Bucs wallow at No. 23.
The 49ers were 7-25 in the two previous years before Lynch was named GM and Kyle Shanahan replaced Kelly on the sidelines. They closed with a rush after an 0-9 start in 2017, building up hopes, but last season was derailed in Week 3 when Jimmy Garoppolo went down with a torn ACL
While the Bucs are still pining for respectability, the 49ers have shown the Glazers how it's done — and done rather quickly.
Lynch and his advisers have been very shrewd in building a young, vibrant organization. The 49ers traded for Garoppolo and Dee Ford, drafted Nick Bosa and signed Richard Sherman, Kwon Alexander, Matt Breida and Tevin Coleman as free agents.
Just look at them now.
Sherman provides veteran leadership in the secondary, Bosa and Ford are critical components of a fierce pass rush and the 49ers lead the league in rushing, averaging 200 yards per game on the ground and a nifty 5.2 yards per carry.
San Francisco has outscored its opponents by 70 points through a 4-0 start and outgained them by a whopping 679 yards.
Does that sound like a fluke?
Bucs Dreams
It all began right here in Tampa with a 31-17 victory as the 49ers victimized Jameis Winston for a pair of pick-6 returns. That was the start of something big and Monday night's 31-3 rout against Cleveland reinforced the notion that the 49ers are for real.
"Everybody is going to have an impression of us after this game," Bosa said last week. "We want it to be a 4-0 good impression, not as a 'fake undefeated team,' like people are kind of saying now."
Then Bosa went out and showed a prime-time audience why he was the second overall pick in the draft, posting 2 sacks, 5 QB hits, a forced fumble and a fumble recovery.
"They beat us in every facet of the game," said embattled Browns coach Freddie Kitchens.
Lynch takes no pleasure in seeing the Bucs stumble to a 2-3 getaway.
His eyes are fixed on the NFC West crown and the upcoming road matchup against the Rams, who scored 87 points last season while sweeping the 49ers.
Lynch overcame a shaky start as an NFL executive. He used the No. 3 overall pick in 2017 to select Solomon Thomas, who is now a reserve defensive lineman. He traded back into the first round to take linebacker Reuben Foster at No. 31. Foster washed out due to an array of off-field issues.
But Lynch kept plugging away, building an ornery offensive line that has helped San Francisco own a possession time of 34:05. In Kelly's final season, the 49ers ranked 31st in offense and 32nd in defense.
San Francisco is now Top 5 in both categories.
"We're going to assemble a team that will make you proud," Lynch said upon his introduction.
Every year, Buc fans look on with envy as teams come out of nowhere to make the postseason. The Bills did it two years ago and they may do it again this season. Here come the 49ers.
That's why Sunday's game in London is so critical. A 2-4 record heading into the bye week would kill any momentum forged in Los Angeles. If Tampa Bay can regain the .500 mark, a playoff run wouldn't require an active imagination.
Lynch's team is trying to hold onto first place this weekend. The Bucs are trying to hold onto their hopes and dreams.
In the words of our chief executive, let's see what happens.
---
Join Ira at 9 a.m. Sunday at Buffalo Wild Wings in South Tampa. Bucs kick off at 9:30 a.m. in England against the Panthers,

4015 S. Dale Mabry Highway Tampa!!
Great fun with Bucs fans! Ira has gift cards to give out while supplies last!