Rooting Guide For The Bye Week
October 20th, 2019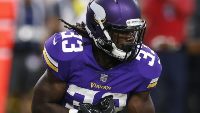 Dreaming of a Bucs playoff berth in January? Perhaps a top draft pick in April?
These are today's ideal results as the Bucs sit home and watch glorious NFL football on the couch.
This might sound odd: Go Falcons! Atlanta (1-5) has the Rams (3-3) at home this afternoon. The Bucs own a head-to-head tiebreaker edge with the Rams and that's critical to their playoff chances. Plus, the Bucs still have two games remaining to beat up on the Falcons.
Minnesota (4-2) travels to Detroit (2-2-1). Joe would like to see the Lions get their second conference loss. The Vikings already have two. Conference record can be a key tiebreaker and the Bucs already have four freakin' conference losses. There's only one other NFC team with four? The hapless Redskins. The Bucs will hit the road to play Detroit on Dec. 15.
San Francisco (5-0) at Washington (1-5). Go Skins! The 49ers aren't about to melt down, but just in case, the Bucs' draft hopes potentially could be helped by a Redskins loss today.
Arizona (2-3-1) at Giants (2-4). Sadly, the Giants own a head-to-head tiebreaker edge with the Bucs. So Joe is all over the Cardinals here, then the Bucs can go out punish the Cardinals in Tampa on Nov. 10.
New Orleans (5-1) at Chicago (3-2). With the Bucs still breathing in the division chase, Joe has to root for the Bears. Alvin Kamara and Jared Cook are injured and will not play today.
Eagles (3-3) at Dallas (3-3). The Eagles have three conference losses and Dallas has two. So Joe's pulling for the Eagles. DeSean Jackson has been out since Week 2 with a hernia and nobody knows when he'll return this season.