"Probably Blitzing A Little More Than We Expected"
October 15th, 2019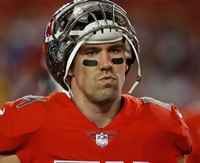 So what went wrong for the Buccaneers against the Panthers?
Yeah, yeah, seven turnovers is too easy an answer.
Tight end Cameron Brate talked to Buccaneers.com after the game and shared that the Panthers defense looked different than usual. "They were probably blitzing a little more than we expected because they were having success with it and kept doing it," Brate said.
As a follow up to that, Bucco Bruce Arians had very harsh words for his pass blocking running backs during his Monday news conference.
"Running back – protection-wise – might have been the worst it's been," Arians said. "We'll do a better job of finding our guys and blocking them next time, but it's not all on the quarterback. A lot of it is – I'm not going to shy away from that either.
Brate noted the Panthers' blitz success was disappointing because the Bucs had prepared for it during the week.
So many issues on this Bucs team. It's got Joe's head spinning.