Arians: Leadership On Offense Is Lacking
October 31st, 2019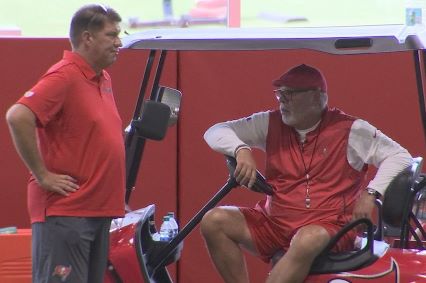 Early in his Tampa Bay tenure, Bucco Bruce Arians ordered Jameis Winston to dial back the rah-rah stuff, lose the team-leader mentality and just focus on executing at the quarterback position. This approach was met with a public hallelujah from general manager Jason Licht.
And now Arians has the gall to say publicly that he needs a leader to step up on offense.
Anyone know of a mental asylum airing Sunday's Bucs-Seahawks game. Joe needs a safe space (rather than the fun at the Buffalo Wild Wings watch party in Pinellas Park with Ira Kaufman).
What the hell is going on around here?
You basically told the face-of-the-franchise quarterback to shut up and play football, and don't worry about leadership, and now you want a loud voice on your offense?
On Buccaneers Radio this week, Arians was interviewed by team reporter Casey Phillips and the head coach raved about Lavonte David's intense postgame speech to the team in the losing locker room at Tennessee.
Phillips: How important is it to have a vet like him?
Arians: We need more. You know, we have Jason [Pierre-Paul] now back on defense. And Lavonte is now more vocal and knows he has to be. We need someone on offense to step up.
C'mon, Coach. If you really thought your leadership on offense was lacking, then you should have pulled a guy aside privately three weeks ago and demanded that he take on a vocal leadership role. And if you don't have that guy, then look in the mirror since you freakin' handpicked the roster.
The problem here is Jameis should be "that guy" — that guy Arians believes the team so sorely needs to right the ship via leadership. But Arians himself neutered Jameis in that capacity.
Arians told media yesterday that the Bucs are two plays from being a 4-3 football team. That also got Joe to Google a mental institution. The same damn faulty we-play-close-games logic from Bucs officials led to the destruction of the Dirk Koetter regime.
The Bucs are also one play from 1-5. See how stupid that sounds?
Our 2-5 Bucs have serious issues. If Arians thinks it's leadership, then he needs to adjust how he and his staff are coaching/leading/grooming leaders.