Jameis Is A New Man; Jason Licht Explains
August 7th, 2019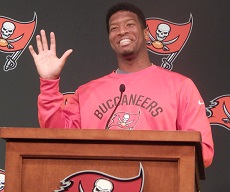 Let's call him America's Quarterback, 5.0.
Yes, Jameis Winston is a changed man, general manager Jason Licht explained today on SiriusXM NFL Radio.
Legions of Bucs fans dreaming of an elite franchise quarterback (or at least another Josh Freeman 2010 season) will be absolutely mesmerized by Licht's words today to a national audience.
"Just the way he's carrying himself right now, he is very relaxed. He is very calm," Licht said of Jameis. "He is a different guy than I've seen in the previous seasons that he's been here. It's a confidence. I feel like, you know, he knows we gotta win. And he knows he's gotta cut back on mistakes. It's almost like it's, I don't want to say 'all of a sudden it clicked,' but he realizes where we're at and where he's at and he's comfortable with it.

"He's kind of convinced me just the way he's carrying himself. He hasn't been trying to be the rah-rah guy. He hasn't been trying to be the overall team, emotional leader. He's focused.

"He knows that he's got to play quarterback well, and that's what a true quarterback does and then he leads by doing that."
Joe is almost speechless hearing Licht's remarks. It's great that the GM sees a maturity he likes. What Bucs fans wouldn't appreciate that. But Jiminy Christmas, if Bucs officials weren't big fans of Jameis being the "rah-rah guy" and the emotional leader of the team around the clock, then why was he the quarterback they drafted?
That's exactly who Jameis was coming out of college and that guy was embraced by Lovie Smith, and Dirk Koetter certainly didn't try to coach that out of Jameis, per Joe's knowledge.
Just win, Jameis. That's what will get everyone to shutup about your demeanor.
Regardless, Jameis is a new man, per the GM, which got Joe thinking of "I'm A New Man."