Joe Thomas, Steve Smith Rave About Jameis
October 12th, 2019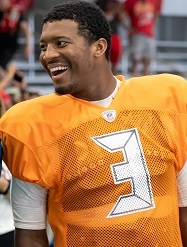 If you listen to retired superstar left tackle Joe Thomas, Bucco Bruce Arians is a master psychologist and is doing everything short of the Vulcan mind meld to repair the football head of America's Quarterback, Jameis Winston.
Thomas says Jameis is playing like a franchise quarterback. But for some reason, Thomas was told/heard Jameis was not a confident QB entering this season. (Joe's not buying that.) And that's why everything Arians has been saying and doing has been all about propping up Jameis, Thomas said. There's more in the NFL Network video below.
Ex-Carolina Pro Bowl receiver Steve Smith also loves what he's seeing from Jameis, who Smith says is proving himself this season. "Less and less Jameis Winston, young Jameis Winston mistakes," Smith notes.
Joe's first thought after hearing that was, 'thank goodness Jameis' two interceptions last Sunday were negated by penalties.'
Joe hopes Thomas and Smith are on the mark. The Bucs will no doubt need a special day tomorrow from Jameis while missing two offensive line starters against a tough Panthers defense.