Is Mariota Benching A Perception-Changer At One Buc Palace?
October 16th, 2019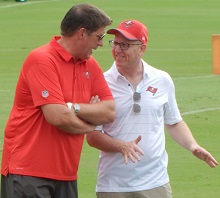 This post likely only will make sense if you accept that ego is a huge, driving force through most NFL organizations.
And it you don't accept that, well, then Joe suggests you read something else.
As Sage JoeBucsFan.com columnist Ira Kaufman noted yesterday in his column, the 2015 quarterback draft class is the NFL equivalent of a soiled diaper. Jameis Winston and Marcus Mariota were the top dogs selected No. 1 and No. 2 overall, and no team is wishing it drafted Garrett Grayson, Sean Mannion, Bryce Petty, Brett Hundley or Trevor Siemian.
But Winston and Mariota have underachieved, culminating in the benching of Mariota yesterday by the Titans, likely the end of his low-scoring, low-turnover reign in Tennessee.
So Joe has to wonder whether with Jameis' future completely unknown, did the benching of Mariota just make life easier for the Bucs' front office and for Team Glazer, if they're contemplating moving on from Jameis after the season.
Hey, it's hard to look terrible when your quarterback failed along with his entire draft class of QBs.
General manager Jason Licht easily could make a case to his bosses that the Bucs just ran into bad luck in 2015 but still drafted the very best quarterback available, even though guys like Father Dungy and Peter King, among many other influential NFL voices, were huge Mariota supporters entering the draft.
That kind of reality interpretation might soothe Team Glazer as they ponder the future of Jameis. Team Glazer won't be carrying the shame of drafting the wrong 2015 QB, which could make them less hesitant to move on from Jameis. No more competing with the Titans to save face and, yeah, that kind of stuff matters. No ownership group wants to look horrible on major decisions.
Everything happening in the quarterback market will affect the Bucs' decision on Jameis, from injuries across the league to performance of many low-paid QBs, potential retirements, and more Mariota-like implosions, in addition to the college gridiron and final draft position.
If Jameis keeps playing down-and-up football, the Bucs QB decision could get extremely complicated.
Just don't think Mariota falling on his face is insignificant to the big picture call by Team Glazer. And yes, their voice is heard on major decisions.