Ira Kaufman's 10 Takeaways From Bucs-Panthers
October 13th, 2019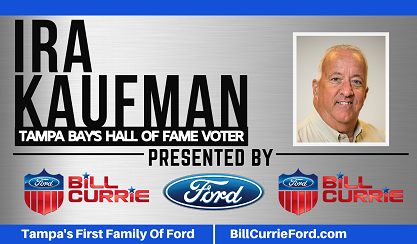 BY IRA KAUFMAN
There's a church close to the Buffalo Wild Wings in south Tampa where I watched in dismay as Carolina humbled the Bucs in London Sunday morning.
When the game ended, I watched several Buc fans trudge out the door, seeking the power of prayer.
When 1 o'clock came around and the game was still not over, all of the TV stations in the house automatically switched off from the Bucs-Panthers broadcast to a different network.
You should have heard the cheers.
Can you imagine what went down on that 4,400-mile flight back to Tampa? Bruce Arians may have ordered a few choice beverages to calm his nerves — and his fears. Jameis Winston reviewed all six of his giveaways in his troubled mind and tried to muster the courage to look his teammates in the eye.
The Bucs never gave themselves a chance on a dreary day across the pond as Carolina's stunning resurrection continued. Add it all up and it's a 2-4 record before the bye week. You know who needs a bye week more than the players and coaches? Buc fans … the loyal men and women who continue to support a franchise that rarely returns their affection.
Arians is still waiting for this football team to stack 'em up. He turned a 5-11 club on its ear in 2013, his first season in the desert.
He told Buc Nation that this was an easier reclamation project, but the buzzards are circling above One Buc Place.
It's early in the season and it's not dark yet, but it's getting there. Here's how Gerald McCoy and friends atoned for that Week 2 upset in Charlotte:
* How poorly did Winston play? Even his apologists, and you know who you are, can't muster up much of a defense. He was sacked 7 times, threw 5 picks and lost one of his 2 fumbles. He rarely looked comfortable in the pocket and he showed no awareness or feel for Carolina's relentless pass rush. Through the first 6 games, he has been awful twice (don't forget about Week 1), and not very good in New Orleans. Even an offensive guru like 80-year-old Tom Moore didn't know what to say to Winston when No. 3 came off the field.
* Three guys sitting with me predicted Winston's first pass of the day would be directed toward Mike Evans, who was blanked in the Superdome. Bingo, interception. C'mon, Mr. Leftwich, you've got to be smarter than that.
* Winston's first-half passer rating was 11.9 That's not a passer rating, that's the temperature in Nova Scotia in January.
* Bobo Wilson got lucky the first time he fumbled a punt. The Bucs recovered that gaffe, but Wilson wasn't as fortunate the second time around. Watch the tape of that second drop — he never got his body in front of the punt. The Bucs can do better, can't they?
* Even if you cut the offensive line some slack for missing two starters, the group up front underachieved for the second consecutive week. Even Ali Marpet had his issues and on the season, Winston has been dropped 25 times. The toughness displayed so often in Los Angeles has disappeared, along with the remnants of a credible ground game.
* Shaq Barrett went missing again, in part because opposing offenses have decided to commit additional resources to neutralize No. 58. Carl Nassib responded with his best game of the season, registering a sack and 4 tackles for loss, but Kyle Allen usually had an unobstructed view downfield. He didn't have as much time as Teddy Bridgewater, but he had ample time to pick on Vernon Hargreaves and company.
* Run defense continues to be a positive, along with the play of Chris Godwin. And once again, the Bucs stymied Christian McCaffrey, who has terrorized four other opponents while garnering early-season consideration for league MVP. McCaffrey scored twice, but he was limited to 57 yards in 26 touches.
* It is galling for Buc fans to witness what has happened since that enchanted evening, when Hargreaves stopped McCaffrey on the goal-line in the final seconds to secure a road victory. The Panthers were 0-2, Cam Newton was hurt and Ron Rivera was in trouble. But here comes Allen, an undrafted free agent who hasn't been intercepted during Carolina's 4-game winning streak. Meanwhile, the Bucs have dropped 3-of-4, with all three losses coming against backup quarterbacks.
* The aggressive defensive scheme utilized by Todd Bowles has apparently been figured out. In the past 14 quarters, dating back to the second-half collapse against the Giants, Tampa Bay has allowed 130 points. Who let Mike Smith back into the building?
* Even if the Bucs split in Nashville and Seattle, they would hit the midway mark at 3-5. That's not acceptable for the Glazers and it's surely not acceptable for a 2-time Coach of the Year who expected a quick turnaround. This referendum on Winston's future is tilting sideways. The No. 1 overall pick in the 2015 draft has 10 games remaining to "throw the damn ball away" and stop trying to be Superman.
At the moment, he's Tampa Bay's kryptonite.