Fun With Film
October 13th, 2019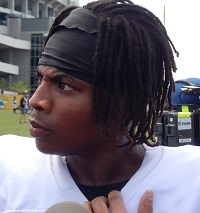 A week after Bucco Bruce Arians called his secondary soft, Vernon Hargreaves served up a cotton-ball coverage that is almost inexplicable.
Joe has pictures.
Hargreaves gave Panthers receiver D.J. Moore an 8 1/2 yard cushion on a 1st-and-10 play with the Panthers in the shotgun from the Bucs' 33 yard line holding a 3-0 lead.
Somehow, Hargreaves watched Moore run right up to him and rub him off to the outside where he caught the ball with Hargreaves a full four yards away. After five yards of YAC (yards after catch), the result was a 23-yard gain.
See the images below. Hargreaves and Moore are at the top of the pictures.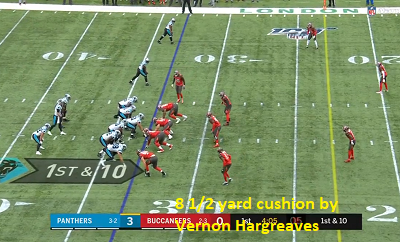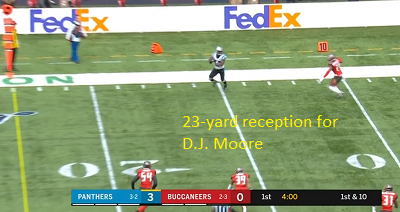 How does this happen when Arians told everyone who would listen that Hargreaves is a press corner who just didn't get the chance to thrive in press coverage in the previous defense?
How does this happen when the Bucs have the NFL's largest coaching staff?
On the actual play, safety Andrew Adams is giving even more cushion to his receiver, who was wide open for an 11-yard gain but the ball wasn't thrown his way.  To make this play even more of a comedy show, Beau Allen dropped in coverage to pick up Christian McCaffrey.
Yes, Joe realizes the Bucs were playing zone, but you certainly can play a much tighter and less "soft" zone.
The 99-yard drive finished with a touchdown and the Bucs never recovered. And the best Joe could tell, Ryan Smith and Jamel Dean didn't get their shot to replace Hargreaves.