Invisible Tight Ends
October 7th, 2019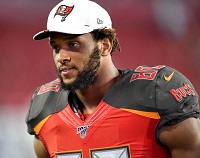 UPDATED 12:46 p.m. – Three targets for Buccaneers tight ends yesterday in a game that saw Mike Evans get completely shut down (3 targets, 0 catches).
Chew on that sour apple for a minute.
O.J. Howard has 11 catches this season for 141 yards and zero touchdowns. Joe's going to stop short of declaring Howard in Bucco Bruce Arians' doghouse. But that might just be the reason.
And the Bucs are throwing passes to Dare Ogunbowale in the red zone. Joe would love to see Howard in the role of third-down running back at this point.
Howard quickly went from elite weapon to afterthought.
Cameron Brate? The healthy, big-money tight end has 72 yards receiving on 10 catches this season after an 11-yard grab yesterday. Joe supposes that's not bad for playing just 14 snaps. Brate used to display elite-level chemistry with Jameis Winston regularly, in addition to solid hands.
Joe's got no answers to the tight end mystery. But if the Bucs aren't going to use both of these guys, then they certainly should shop one to see what the market bears.
Arians was asked today at his news conference about Howard's lack of targets. He said it's is a matter of "opportunities." … …"It's just whether or not he's getting open."