Gay Appreciation
October 7th, 2019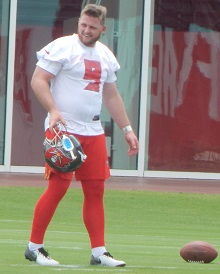 Former Bucs kicker Cairo Santos tied a modern NFL record yesterday.
Santos, cut by Tampa Bay just before the season, missed on four field goals — two short and two long distance — as his Titans fell 14-7 at home.
Of course, Santos is the guy the Bucs deemed the best available option to drive competition for rookie kicker Matt Gay, who has settled down nicely, including a 42-yard field goal yesterday.
Gay is drilling field goals with an 83 conversion rate, 12th-best in the NFL. His extra point rate of 88 percent ranks tied for 27th.
Before yesterday's game, general manager Jason Licht was raving about the mental makeup of Gay and how much it says that he's recovered from what happened against the Giants.
Joe is searching for positives this morning and is filled with Gay appreciation.