Heroic Return By JPP; Trade Bait?
October 27th, 2019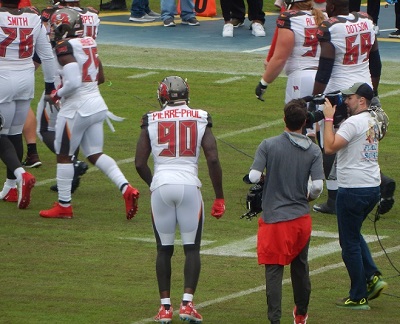 There was Jason Pierre-Paul centered in the Bucs' pregame huddle at midfield on the Titans' home turf.
JPP was jacked up and firing up his teammates.
He wasn't about to make a gentle return following breaking his neck in early May.
Lively in warm-ups, JPP did not start today's game for the Bucs defense, but he was in there on the second snap and that's when he recorded his first sack of 2019. Later in that series he got in a good shot on Titans quarterback Ryan Tannehill.
Joe was proud to be there to witness this heroic comeback by a Buccaneer who leaves it all on the field.
It's funny. If you talk to JPP, he'll tell you he didn't grow up a football fan and he's not much of a NFL fan right now like most other players are. But he is a fan of playing and pushing his physical limits to the extreme.
Nobody's every going to call JPP "soft."
Today we saw JPP rush the passer, drop in coverage, play the run and manage to get in a healthy share of snaps for a guy who has had about five practices all year. He finished with three solo tackles.
Bravo to No. 90.
Joe hates to type this, but the Bucs could probably get a strong draft pick for JPP before Tuesday's league trade deadline. He will be a free agent after the season, courtesy of his re-worked contract, a move made after he broke his neck.