Judgment Days For Jameis
October 27th, 2019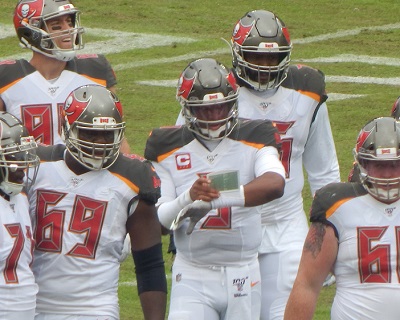 By any fair measurement for grading a starting veteran NFL quarterback, Jameis Winston has had seven exams this season and received three different grades.
In three games he got an A, excellent work against the Rams, Giants and in Carolina I.
In three games he failed significantly, (today in Tennessee, against the Niners at home and in Carolina II).
And in New Orleans, Jameis was meh. If you set a low bar, he was OK against the Saints. If you have a high bar, he was jittery and off his game, a little lucky to have two interceptions taken off the board for penalties away from the ball.
Regardless, through seven games, Jameis has a bad grade for the season. C-??
Surely, even his staunch defenders among Bucs fans expected a lot better in 2019.
America's Quarterback is now 61 starts into his career an it remains unclear whether he has what it takes to be successful quarterback. Of course, growing legions of fans think he's proven that he cannot cut it.
No, Joe doesn't think the Jameis era ended today in Tennessee. He'll get more games to discover consistency, but his time is just about up.
Team Glazer, Bucco Bruce Arians and Jason Licht already may be all-in on finding his replacement — while they keep their fingers and toes crossed that he can go on a run of solid and strong play we've yet to see.