Get Open?
October 20th, 2019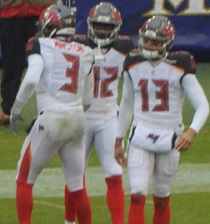 Here's a very ugly official NFL NextGen stat that looks bad for Bucs receivers, offensive coordinator Byron Leftwich and Jameis Winston.
Who deserves most the blame is a mystery.
Joe likes the NextGen data because it has nothing to do with part-time film watchers defining whether an offensive lineman allowed a quarterback pressure on a screen pass,  projecting the real meaning of running backs getting hit in the backfield ,and grading cornerbacks covering receivers.
The NextGen data is all technology-driven tracking.
The Bucs and Jameis Winston are struggling in a particular component of the passing game called "Expected Completion Percentage."
NextGen technology tracks the probability of a pass completion based on numerous factors that include receiver separation from the nearest defender, where the receiver is on the field, and the separation the passer had at time of throw from the nearest pass rusher. That probability is calculated on every play to determine what a passer's completion percentage is expected to be for that throw.
On Jameis passes this season, his Expected Completion Percentage has been 59.2 percent, per NextGen data. That rate is second worst in the NFL. Only Ryan Fitzpatrick's is lower. Jameis' actual completion rate is 60 percent. So that's solid.
Matt Ryan, Teddy Bridgewater, Jimmy Garoppolo and Sam Darnold all have an Expected Completion Percentage at 68 percent or higher, and all are competing at higher than that rate
That makes Joe wonder what's going on. Are Bucs receivers not getting open well? Is Jameis throwing to too many covered targets and not finding the open man enough? Is he throwing a shade too late? Is Byron Leftwich not setting his QB up for success? Is the pass rush heat from defenses dragging the number down?
Jameis was 7th worst in this category last season and Fitzpatrick was 11th worst in a season when they combined for 26 interceptions.
Lotta room for improvement in the Bucs offense, and they are among the top scoring offenses in the NFL.