Fuzzy Sports Science Evaluation
October 13th, 2019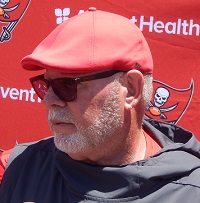 Joe is confused.
The Bucs have a sports science team but Bucco Bruce Arians seems to think the scientists are only responsible for physical performance.
After today's beating at the hands of the Stinkin' Panthers, Arians was adamant in his postgame news conference that the sports science team did "a hell of a job" preparing the players physically following the strain of traveling to England to play. It's on the coaches, Arians said, to get the players right mentally.
Joe's not buying that for a minute.
Since when is mental acuity not tied to physical readiness?
The Bucs came out flat and got rolled. Mike Evans was unfocused. So was Jameis Winston. The secondary? Well, they looked like themselves. Joe certainly didn't see an offensive line that was sharp and physical. But most of all, the Bucs didn't look as sharp and or as fresh — mentally and physically — as the Panthers, who arrived a day before the Bucs. They had a different philosophy to the travel to England, as Joe outlined the other day.
Joe's not saying the sports science team made the wrong call for traveling overnight Thursday into Friday and keeping players awake through Friday's afternoon practice. There's a lot that goes into the sports science stuff. But the reality is there is no evidence they did a "hell of a job," like Arians explained.
And if it's really not on the sports science team, then the largest coaching staff in the NFL dropped one heck of a clunker in a huge division game.