Division, Fan Apathy On The Line Next Sunday
October 6th, 2019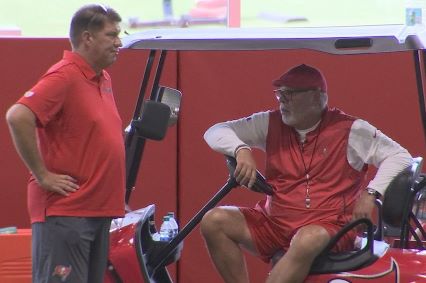 Thankfully, Bucco Bruce Arians has a golf cart to carry all the oversized baggage the Bucs franchise lugs around.
A big percentage of fans are beaten down by years and years of incessant losing and personnel miscues. And Joe is hoping beyond hope everyone in the Bucs organization realizes what's at stake next Sunday in England.
The game should be treated like it's the Super Bowl.
Bucs officials and players often forget the NFL is entertainment, a multi-billion dollar ATM machine driven by fans.
Without the fans, the team is worthless, and the No. 1 thing that drives fans is hope. That's why the busiest traffic month at JoeBucsFan.com is nearly always March. It's the season of excitement. April is often a close second and August is a powerhouse, too. January is stellar — when there's a coaching change. When the Bucs win, Monday traffic here is fantastic; when they lose, it could be 15 percent less than after a victory.
The cold reality is that if the Bucs lose to Carolina (3-2) in England and fall to 2-4 entering their bye week, that will signal the end of the season for a big chunk of fans. Hope will die for 2019.
Sure, it would return if the Bucs made a midseason run like they did in 2016, but every time hope is killed off it takes some fans away permanently.
Joe's writing this more as a therapy session than anything else after the Bucs got kicked in the teeth by a better Saints team today. Falling to 2-3 is a reminder that the Bucs should be 3-2. And the Bucs defense looking like Mike Smith is in charge is a reminder that little has changed on that side of the ball in 365 days.
A beatable Panthers team is up next. It's a must win for hope. And hope matters. It's what Bucs fans cling to for dear life.
It's all we got.